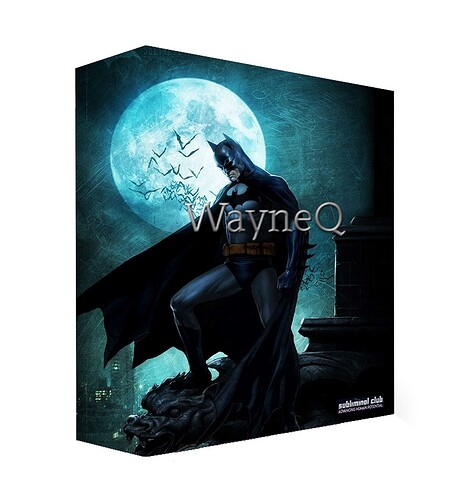 I've been listening to Emperor for the past 3-4 months and my goal was to listen to it for the rest of this year. It's a phenomenal subliminal and I've gone through mostly massive inner change with some major external changes. I don't have an Empire yet (I define Empire as a personally created and owned high status, highly purposeful/contributing structure with endless potential that consistently brings me large amounts of wealth) but I sure as hell am on my way. The last 3-4 months have been a sort of preparation and now I am ready to pull all triggers and go no holds barred especially because I am functioning currently without any mental limits. All I need is a direction to channel my drive and now I have it. I wasn't ready this whole time but now I'm ready.
Emperor has guided me towards making a custom that covers the main things I need to get me to my goal. I am still going to be getting exposure to the Emperor script, since Emperor Core is in my custom, but I have some add-ons that are very specifically directed towards my goal. For that reason, I see this custom as a complete upgrade rather than a case of "switching subs". My desire to do this wasn't recon inspired. It was an incredibly clear and calm decision with a blueprint that makes sense allowing me to step forward and take off at an even greater speed in the direction that I was already heading.
My custom has 10 modules (I will explain why later):
Emperor Q Core
StarkQ Core
Power Can Corrupt Q Core
Quantum Limitless ST4 Q Core
R.I.C.H. Ultima Core
Inner Circle Q Core
Sultan
Mastermind
Furious Ascent
Carpe Diem Ascended
I will briefly explain the reason for each module, my logic for including it, how it will play a part in my journey, as well as my intended goal with each one.
Emperor Q Core - is self-explanatory. It's the first subliminal I used and it has brought me this far. It will keep allowing me to go farther and become better in all of the areas that it covers so I have no reason to suddenly stop using it.
StarkQ Core - just plainly seems like an incredibly phenomenal subliminal and puts a lot of focus into areas that Emperor doesn't. I also happen to be somewhat weak in these areas. This includes things such as celebrity effect, magnetism, charisma, status and social ability that I can see working very powerfully in tandem with Emperor.
I can see StarkQ's fame cultivation and generation adding another layer of status to the Emperor's aura of capability and power. The charisma, personal magnetism and daredevil aspects, I don't think they conflict with Emperor but instead make everything more powerful. There is also the genius factor and intellectual competence which I could use more of especially in the technological domain.
The reason I named this custom WayneQ is because
Power Can Corrupt Q Core - PCC is just too good and useful to not have, especially since I'm going to be networking, raising my status and interacting with people a lot. I need the "PCC vision" so that I can see through everything socially and maneuver meticulously in ways that bring me closer to my goal. Charisma is also a very powerful thing to have and PCC will just amplify everything about Stark and Emperor by helping me further cultivate my external power. I don't think I can skip out on what PCC does.
Quantum Limitless ST4 Q Core - I need to maximize my intelligence, skills, cognitive functions and learning to the highest levels and beyond. Quantum Limitless encapsulates what I'm after very well. Emperor has QL-Lite and StarkQ has even more things to help me become more intelligent, but I need the whole package in its entirety. I have to maximize my intelligence in absolutely everything and Quantum Limitless ST4 will help me do that while also fully fleshing out the intellectual aspects of StarkQ and Emperor. I can also see it helping me socially and amplifying PCC.
R.I.C.H. Ultima Core - Threw this in there to supplement the wealth building aspects of Stark and Emperor as well as to maximize the wealth manifestations/drive. I don't have many limiting beliefs when it comes to wealth. I mainly just need to Go and I have some more modules to help me with that.
Inner Circle Q Core - Similar to QLST4, StarkQ has some elements of Inner Circle specific for the goals of StarkQ but I need the full Inner Circle. This is for the general manifestation of people in all areas whether that's wealth, networking, friends, romance etc. It will also work well with the PCC and R.I.C.H manifestations. A very powerful module to have. Just like PCC, I can't skip out on what it does. It was either include it in a custom, or run it as a main title.
---
Yes, that is 6 cores, quite a lot and beyond the recommendations of Subliminal Club (they recommend no more than 3). To be able to do this, you have to be smart about the layout and theme of your custom and have a clear specific direction in which all of the modules contribute towards. You can't just throw random modules together and put random cores. Make it make sense. Also, I have been using one of the most difficult subliminals (Emperor) for many months and am in tune with my subconscious capacity. I have already manifested that the subliminal will work as I intend it to through intuition, I just know it will.
Sultan - This module is all about money, wealth, status and living in opulence. All of which I am after. It seems like a great module to put more focus on these things all around and maximize the aspects of it wherever it is present in with the other cores (StarkQ, Emperor, R.I.C.H.)
Mastermind - This module seems to me to be all about strategy, planning and being calculating. This will help me become better at planning more efficiently and creatively in ways that bring me closer to me goals. Seems like a great contributor to success that I can use both generally and specifically. I can also see it working especially well with nearly every other module in my custom.
Furious Ascent - Comfort zone obliteration. Goes well with everything in my custom and maximizes productivity. Throwing it into my custom as a module will really give that added focus allowing me to take things to the next level and drive forward on my journey without fear of taking risks or being addicted to comfort. Complacency and comfort limits potential too much. I will be directing this to eliminate any excuses so that I can just take as many good risks as possible in all areas where applicable without hesitation. This module can give me that extra propulsion when it comes to action-taking. Be everywhere, doing everything.
Carpe Diem Ascended - I think this module goes very well with Furious Ascent . A hyper focused module for extreme ambition and motivation will aid me in becoming relentless in my achievement and further propel my action-taking giving that extra flare to the main theme of the custom and maximizing nearly every other module (especially StarkQ, Emperor and R.I.C.H.). I think this is a good dopamine recalibration as well *"immense satisfaction whenever you achieve something (even something as simple as cleaning or eating well) and the amazing love for life you will develop."
Why only 10 modules? I have only included what I need and nothing extra. I plan to run this custom for the rest of 2021, then I will have good progress with it and have developed in many areas. If I get new insights on new areas that I need to work on, then I can always add modules to cover whatever areas I feel like I am lacking in (that of course fit the theme of the custom). I have 2 other themes in mind for future customs, 1 being focused on romance and the other being focused on fitness/physical shifting. I plan to start that next year as for now I am only focusing on WayneQ.
Note: If anyone is using Emperor, go slow, take your time and take whatever actions that you best can. Don't overthink it, it will guide you. Just trust the thing and be consistent. Have a clear intention/goal with your use of the subliminal. Any doubts you have are just limiting beliefs - we can manifest whatever we want. There are no limits
Anyways, I'll be updating the journal as I go along and I will focus more on external results rather than the messy introspective type of stuff
I did 1 loop already and felt euphoria - reminds me of when I first listened to Emperor.
Things are about to get interesting