We're about to change the game again, being the first subliminal producer to officially maintain and support a roadmap and feedback / idea product portal. For those of you who don't know what this means, it's an application that will allow you to suggest ideas directly into the product portal and vote on the ideas others have suggested. Then, as we approve / accept your ideas, they're listed on the official roadmap, where we can post updates on those items. This way, you'll have an idea of what we're working on and have access to official news without it getting lost on the forum.
Note, this does NOT replace the forum and is not a place for chatter. We will delete off-topic comments, journals, etc. It's just a way for us to organize all of the ideas you're generating and see what really matters to our customers. Also, please keep in mind that just because an idea is popular or highly voted, doesn't mean we're going to rush and do it, or that it applies leverage on us to do it. It's an organized way for the community to let us know what matters. Let me show you what this looks like with some sample ideas that we entered.
The roadmap: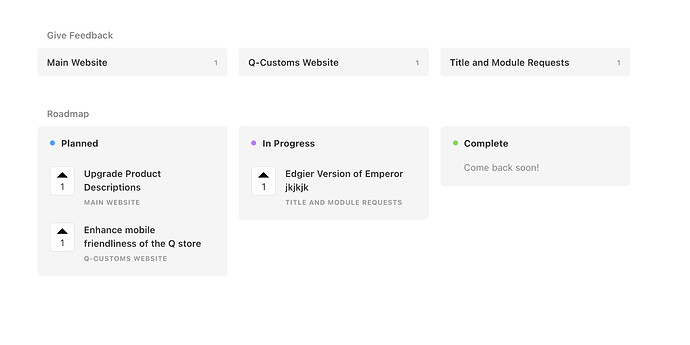 And the actual feedback and voting section:

Note, the portal is still a work in progress, but we wanted to go ahead and let everyone know that it's coming very soon. Now, here's the one downside – for now, we're limiting who can directly enter information into the portal, as these services generally charge per user. We're capping ourselves at 100 users, which is probably more than enough for now. Everyone will be able to access and read it,
Before we let the general public / new users gain access to posting ideas, we want to reward our long-time customers first. Sign-ups will be first come, first serve, and if you don't use your account, we're going to delete it to allow someone else to access it.
First up, if you hold the SubClub Elites rank of Arch Alchemist, High Alchemist or Junior Alchemist, (or, you've reached that post count) send me a PM and I'll send you the invite link. In a few days, I'll update this thread allowing the next batch in.
Once we've hit the 100 user cap, if you see an idea posted on the forum that isn't already in the queue, please enter it into the system and vote.
If the system is utilized, we'll upgrade everything and allow more users and more votes. If no one uses it, we'll create a basic roadmap thread and try to keep everything updated there.
Questions, comments? Drop 'em here.