I've been running my Mogul and Mind's Eye stack - 3 days with 1 loop of each subliminal every day - and plan to carry on my goals of visualization, learning and wealth.
I woke up this morning with a strong urge to switch all my modules in the customized subliminal to focus on a wealth building subliminal. I am tired of hearing my inner voice (and my auditory imagination pushed out in the form of certain people) telling me all sorts of negative stuff. Perhap's Mind's Eye is focusing on my auditory imagination. I am not so concerned about the lack of QL or Limitless in my custom stack now as StarkQ, Mind's Eye and EOG themselves all contain a form of QL or Limitless to some extent.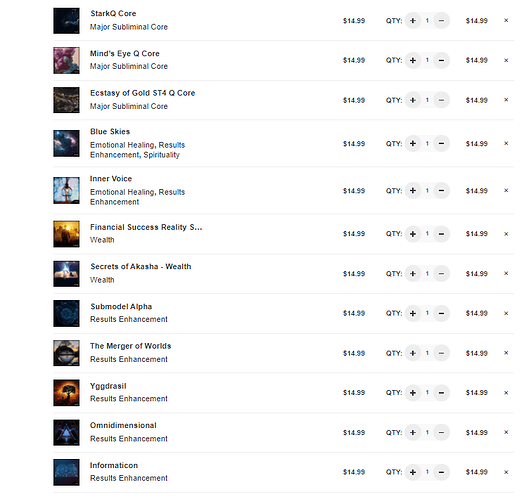 Also, I am realising the importance of financial power. Without money, it's very hard to achieve a lot of things, including control of my own reality. Once I am comfortable with my financial status, I can move on to other goals.
Therefore, I aim to run my customized wealth creation subliminal for 6 months at least and it should be a step up from my Mind's Eye-Mogul stack.
My customized modules will include:
Core Category:
StarkQ (Wealth Creation, Inner Circle, Social Status, Learning Abilities, Wealth Synchronicities, Entrepreneurship)
Mind's Eye Corp (Wealth Visualization, Learning Abilities, Wealth Manifestation)
EOG ST4 (Ulltimate Wealth Creation)
Emotional Healing
Blue Skies (Self-Love)
Inner Voice (Optimize Auditory Imagination, Audio Output from my subconscious processing)
Wealth
Financial Success Realty Shifter (Shift My Reality to Financial Success)
Secrets of Akasha (Absorbing the collective consciousness of the wealthy)
Results Enhancement
Informaticon (Conscious Information Acquisition, Works in coordination with Secrets of Akasha)
Submodel Alpha (Scenario Replaying for most Optimal Scenario.Train my probability and risk taking abilities. Works in coordination with Secrets of Akasha)
Omni-dimensional (Analyze and Approach problems and challenges from limitless angles. Works in Coordination of Secrets of Akasha)
Merger of Worlds (Strengthen connection between subconscious and conscious mind)
Yggdrasil (Manifestation of Opportunities, Making the near-impossible situations accessible).
Some ideas/actions of mine as listed below:
Aim to improve on my Chinese and Japanese language proficiency again as these are key markets I want to be involved in.
Very much interested in how wealth is approached by people such Elon Musk , Warren Buffet and Charlie Munger.
I want to improve on my maths and probabibility abilities to be able to calculate risk and find out the best outcomes for creating wealth.
Social status is somewhat important to me also - StarkQ will cover that and I can manifest my way through with Mind's Eye.
Sales, communication ability and being good at talking is also important. So perhaps in a sense StarkQ is a better choice here than Emperor.
Knowledge is Power.