About a month and a half into my first custom - which I really enjoy - I started feeling a shift from social/sexual to professional and income growth. My custom is anchored with Emperor with heavy social/sexual programming. Perhaps this is a pull from Emperor and Sultan. As my business and teaching interests rose, my interest in dating has gone down.
With summer ending, I am back at school and tutoring season is starting up. Over the last month, I have worked my tail off to generate tutoring opportunities. I now have a network of 3 agencies providing me business plus my existing personal clients from my last year. I am starting the season strong, and I feel more opportunities will come up as more students head back to school and the college entrance exams start to open up again.
I have also felt a strong pull to take my physique to the next level. I have made nice strength gains but feel that there is a whole other level I can reach. I want to break those barriers down and have a body of steel.
I just ordered my custom. Here is what I built with some explanatory notes: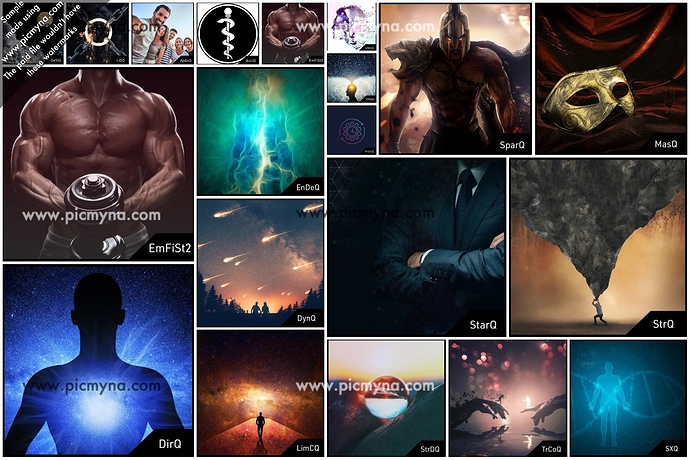 Anchor
StarkQ (StarQ) - achieve a high reputation in my field, business/wealth/success programming
Intellectual/Productivity - Major Thrust #1
Limitless (LimCQ) - obtain broader content knowledge to open additional opportunities for tutoring
Mastermind (MasQ) - help plan/strategize opportunities and organize existing business
Productivity Unleashed (PrUnQ) - maintain high energy and focus
Virtuoso di Matematica (ViMaQ) - I am a math teacher/tutor. Math is my specialty.
Ultimate Writer (UWriQ) - Helpful for writing business proposals and to possibly tutor writing or English.
Relationships
Dynasty (DynQ) - deepen relationships with my own children and my students, establish trust
Transcendental Connection (TrCoQ) - same as Dynasty perhaps from different angles
Physical Fitness - Major Thrust #2
EmpFit ST2 (EmFiSt2) - burn fat, sculpt body, increase endurance, achieve elite fitness, resist junk food
EmpFit ST3 (EmFiSt3) - build muscle, increase strength, break through plateaus
Spartan (SparQ) - increase intensity of workouts
Serum X (SXQ) - boost workout recovery, maintain energy
Deep Sleep (DeSlQ) - maintain energy
Asclepius (AsclQ) - boost workout recovery and general health
Result Enhancement
Stronger (StrQ) - willpower boost against junk food, productivity boost
Limit Destroyer (LiDQ) - crush perceived limits, good for both major thrusts
Approachability Aura (ApAuQ) - relationship building, establishing trust
Direct Influencing Aura (DirQ) - command attention, influence students, influence business relationships
Energetic Development (EnDeQ) - assist aura generation, help with overall energy
Stress Displacement - manage stress with busy workload, help with sleep, help with junk food cravings