The journey begins.
After 31 days of washing out, I started the next leg of my subliminal journey today.
Ultimately, this phase will focus on 3 Terminus2 build ZP customs: Naissance, Sapiens, and PATHS.
But I'm introducing them in waves to give my mind a chance to adjust and acclimate.
So for now, there's just one subliminal on deck:
SAPIENS ZP

Emperor
Quantum Limitless 4
Entranced
Wisdom Personified
Eagle Eye
Empath
Mercy Protocol
Wisdom Personified Way of Understanding
Whispered Power
Chiron
Story Teller
Polyglot
Ultimate Writer
Trailblazer
Technological Prodigy
Instant Business Tactician
Carpe Diem Ascended
Productivity Unleashed
Victory's Call
Mountain Breaker
Expressed succinctly: the focus of SAPIENS ZP is to support me in (en)Visioning and Building my Empire of Wise, Compassionate Service.
The stack of three customs overall is about Self-Determination in Alignment with my Nature.
Played my first loop today.
When I play subliminals, it's generally within a meditation session.
I use the app AudioShare.
Here's the playlist from today: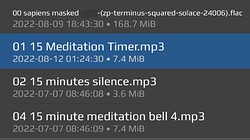 So it's one 15-minute subliminal followed by 3 15 minute silent meditation timer tracks. I get a little chime at 30 minutes and then 60 minutes.
This is almost always how I do it, since it gives my brain time, during the session to focus primarily on processing the sub.
Today's session was from about 12:30 pm to 1:30 pm or thereabouts.
I will play the sub once every 4 days. So next scheduled plays are Tuesday 16 August then Saturday 20 August, and so on.
What did I notice today?
Relatively relaxed easy start. Meditation session felt normal. No obvious altered state effects.

Enjoyed the sound of the solace mask. FLAC had a subtly different sound, a little more organic-feeling. That was about it.

Afterwards, I took 10 minutes to ease back into a post-meditation regular state of mind, and then I got a phone call, which I answered. I noticed that I was slightly more impatient, less tolerant, a little bit more irritable than I might usually have been. Nothing intense, but still noticeable.
And that's, for now, what I've got.