Welcome to the journal for the custom that will turn me into the coolest fucker in the whole world.
I was working on the module choices for my custom since the release of the q-store. I must have probably spent more than 44 hours on it haha, but it was definitely well worth it. All the modules are meant to enhance each other, support my strengths, counteract my weaknesses or complement what I was missing from Khan St4 alone.
So with that level of introspection beforehand, I will probably be able to tell not only why these modules made it into my list but also why others did not. So if you have any questions, feel free to ask.
Happy to answer all!
Here are my modules: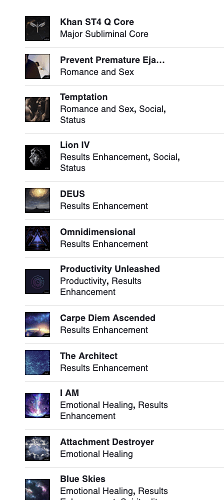 (Click on the pic to see full list)
The name PlayboyQ is actually VERY fitting. Everything will be changed from the inside out for the better - Women, Sex, Friends. But most importantly, life will feel so fucking GOOOOD…
Guys, I am beyond grateful to be here on the forum with you. This is truly a remarkable place where like-minded individuals meet. SaintSovereign and Fire did their job by giving us the possibilities, now it is OUR turn to use them. Let's advance human potential together!